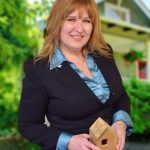 Kelly Mack
Realtor®
A little about me
I grew up in Charlesmont/Dundalk and attended Patapsco High School. Then I studied Business Administration in college.
Been in the business for 3 years as I took Real Estate on as a second career. I always wanted to get involved in real estate - it's challenging as a part time career since I still work full time for the State of Maryland. Work with a lot of renters and have assisted 3 clients with their home purchase. I love working with buyers, getting my feet wet with the business and enjoying the experiences. It gives me great joy helping clients succeed with their home purchase. I have been employed 38 years for the State as a Financial Examiner Lead for DLLR as having experience on the backend really helps with real estate transactions.
Very family oriented - Mom of three children, Lindsey (28), Justin (23), and Dylan (16).
SERVICE AREAS:
ANNE ARUNDEL COUNTY,
BALTIMORE COUNTY,
HARFORD COUNTY.
Motivated, self starter - 38 financial industry experience and a follow through individual.